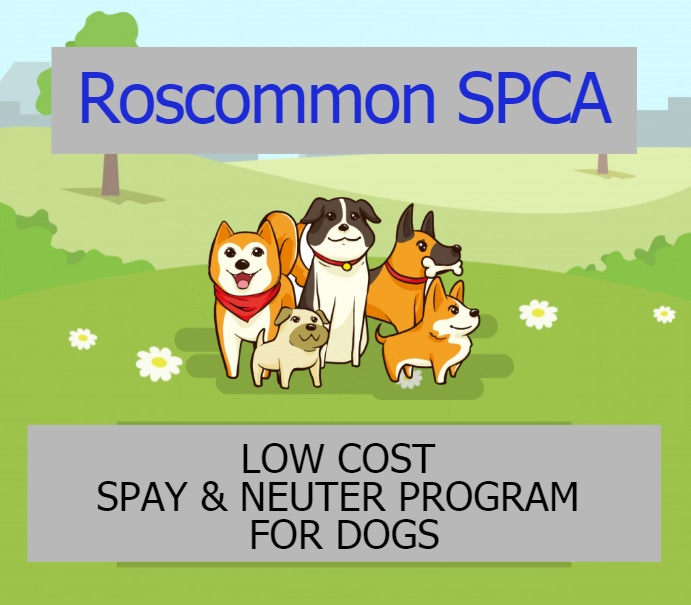 We will carry out a spaying/neutering programme plus microchipping and registration for dogs in County Roscommon only from Monday 6th January 2020.
We will be offering a 50% discount on spaying and neutering plus microchip and registration at certain vets only. We expect high demand for this so please make sure you supply the required information. The criteria for this are quite strict and this is how you do it
Make the appointment with the Participating vets, listed below.
Contact us on 087 050 5594 with the Name of Vet and Date of appointment, your Name; phone Number and Eircode, proof of address may be required.
We will then contact the vet with the 50% discount code once all required information received.
The discount code will only cover what we have agreed; any extras will be your own responsibility.
If we do not receive the required information, you may end up paying the full price at the vets.
For the Micro Chipping, you will need to bring to the vets with your proof of ID and proof of address.
Vets taking part in this are as follows:
All Creatures Vets, Roscommon Town: 090 662 6898.
Cloverhill Vets – Lisagallon: 090 666 5555.
Emlagh Lodge Vets – Elphin: 071 963 0786.
Green Vets in Boyle: 071 966 2049.
Alongside this, we will also be running the €10.00 Community spaying and neutering programme for cats. The same criteria apply.
The above programme will run whilst the funding lasts and may be withdrawn without notice.
This is supported by the Department of Agriculture 2020 Animal Welfare Grant which we recently received.