REPORT ANIMAL CRUELTY
ISPCA National Animal Cruelty Helpline
A National Animal Cruelty Helpline operated by the ISPCA, deals with many thousands of calls regarding animal welfare. The public have become more aware of animal welfare and intolerant of what they perceive to be cruelty or neglect. Consequently the volume of calls to the ISPCA has increased in recent years and continues to rise stretching our services beyond measure. (Our phone lines are extremely busy, please leave a contact number for our operator to return your call).
If you believe an animal is being cruelly treated or neglected, please call 1890 515515
Monday to Friday 9.00am – 5.00pm in the strictest of confidence, or you may fill in a confidential online complaint form . http://www.ispca.ie/cruelty_complaint Please use this form for reporting cruelty only. Do not use this form for emergencies. Please ring the above number and leave a message and someone will get back to you as soon as possible alternatively outside of these hours, and you feel your call is an emergency please contact your local Garda Station http://www.garda.ie/Stations/Default.aspx
If you are concerned about an advert you have seen please email helpline@ispca.ie and include a link to the advert and your concerns, with regards to the nature of the advert.
If you have found a stray dog please contact your local Dog Warden http://www.ispca.ie/useful-info/dog-warden-info/
If you have found a stray cat please contact your Local Society http://www.ispca.ie/member_societies/
**************************************************************************************************************************
Working together for Animal Welfare – Ireland's Animal Welfare Strategy 2021-2025
The Minister for Agriculture, Food and the Marine, Charlie McConalogue T.D., today launched Ireland's first overarching Animal Welfare Strategy.
Click here to view the Working Together for Animal Welfare: Ireland's Animal Welfare Strategy 2021-2025
Welcoming the strategy, the Minister stated, "This Strategy reflects this government's clear commitment to animal welfare. Irish people have a strong sense of empathy and responsibility towards animals and my Department has a proud history of supporting the welfare of animals , whether through policy initiatives, the provision of advice or guidance, or through financial assistance to farmers to help them improve their facilities, or financial supports to our animal welfare charities; we are now taking policy to a new level. Animal welfare is increasingly important to Irish citizens, and we are ever more aware of the interrelationship between the welfare of animals and human well-being. The importance of animal welfare is also reflected in the choices we make as consumers when buying animal-based products and our reputation for high welfare standards is vital to our export markets."
Taking a 'One Health, One Welfare' approach, the strategy recognises the strong interconnections and interdependencies between human, animal and environmental health, and is underpinned by five guiding principles; working in partnership, science and evidence-led policy-making, improving education and knowledge, consistent evaluation and assessment, and an effective regulatory system.
Minister McConalogue continued, "To be credible and effective, our policies must be knowledge-based and evidence-led, and I believe Ireland can become real leaders in the field. That is why I am proud to build our knowledge and expertise by supporting the UCD School of Veterinary Medicine in establishing Ireland's first Chair in Animal Welfare and Veterinary Ethics, and I have asked Teagasc to prioritise animal welfare topics in its education and research programmes."
The Minister said, "Delivering high animal welfare standards is a job for everyone in our society; for those who own, care for, or are responsible of animals, whether on farm or at home, but also for consumers in the choices they make. My Department will work in close partnership with other government Departments and agencies, as well as local authorities, animal welfare organisations, the farming community and agri-food industry, veterinary practitioners and nurses, agricultural advisors, as well as our researchers and educators. Together, we can ensure that as a society, we afford our companion, farmed and wild animals, the respect, care and high welfare standards they deserve."
The Minister outlined his priorities for 2021. He said, "Before Easter, I will bring legislation before the Oireachtas to prohibit fur farming in the State. My Department will review the current ex gratia funding model for animal welfare charities and the underlying public policy objectives with a view to doubling the available funding. My Department will also lead, with partners, a new coordinated approach to the control of horses, to address the worrying evidence of straying and associated welfare concerns we see in some urban areas. And I am personally working closely with farmers and industry to ensure high welfare standards for calves born here in Ireland, whether they are destined for the domestic or export market".
The Minister also announced that in a recent amendment to Ireland's Rural Development Programme the investment ceiling available under the Pig and Poultry Investment Scheme (among the seven capital investment measures available under the Targeted Agricultural Modernisation Scheme (TAMS II)), is increased from €80,000 to €200,000 and will include some additional animal welfare conditionality. It is anticipated that this increased ceiling will be available in the next tranche of TAMS II. Additionally, investments for calf welfare previously available under the Calf Investment Scheme are included in the current tranche (open for applications until 16th April 2021).
Click here to view the Working Together for Animal Welfare: Ireland's Animal Welfare Strategy 2021-2025
*****************************************************************************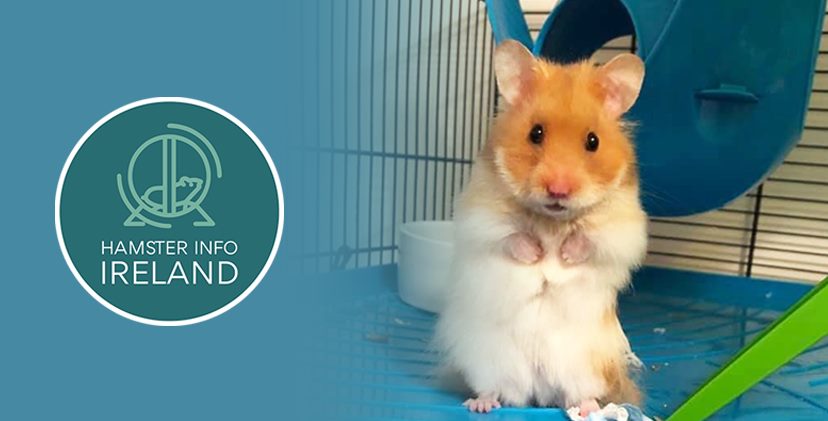 LOOKING AFTER YOUR HAMSTERHamster Info Ireland was founded in mid-2020 and is dedicated to improving the welfare and care of hamsters across Ireland and beyond. From our beginnings, we have set up a website; created a basic care guide; have a rapidly growing online community on both Facebook and Instagram; and have also helped to rescue over 40 hamsters from neglect and found them perfect forever homes. Follow the link here for more info. http://hamsterinfoireland.ie/
*******************************************************************
ISPCA welcomes the Department of Agriculture's new Animal Welfare Strategy 2021-2025
2nd February 2021
The ISPCA welcomes the new Animal Welfare Strategy 2021 – 2025 "Working Together for Animal Welfare" published yesterday (1st February) by the Department of Agriculture, Food and the Marine (DAFM) and fully supports the One Health / One Welfare approach which recognises that the welfare of animals and people are inextricably linked and that all animals should have a life worth living. Animal welfare is an important societal issue and citizens in Ireland expect animal welfare to be at the forefront of government policy.
ISPCA welcomes the Department of Agriculture's new Animal Welfare Strategy 2021-2025ISPCA
***************************************************************************************
SCHOOL EDUCATION PROGRAMME
Our School Liaison officer Marie with the Lecarrow Scouts on Wednesday 31st January 2018. Marie was giving a talk on animal welfare to the young Scouts of Lecarrow accompanied by her own rescue collie Millie. Thank you to Linda and the scouts for inviting in Roscommon SPCA to talk about animal welfare. We would also like to say how very grateful we are for the donations of cat & dog food. Thank you very much.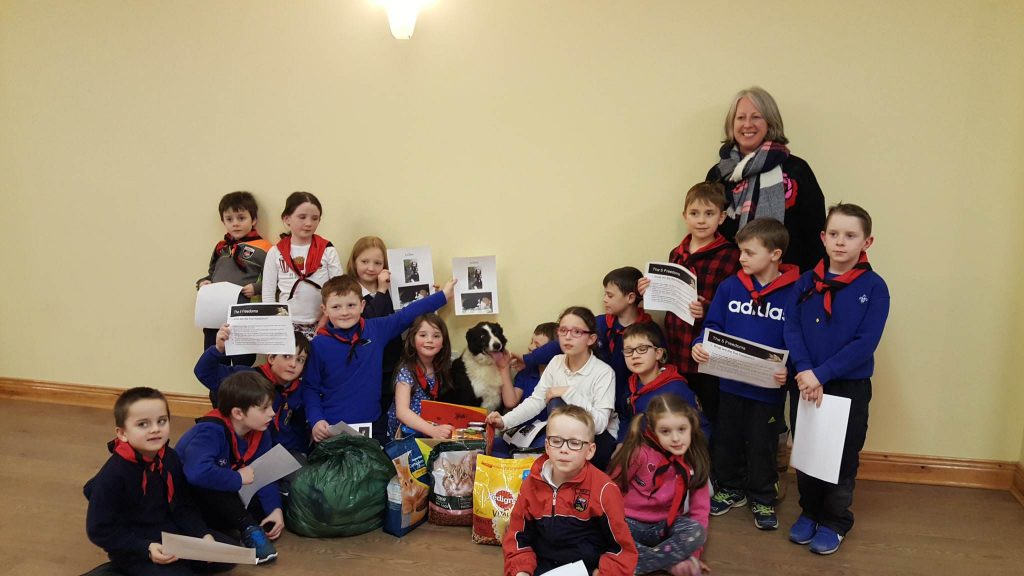 *********************************************************************************************
http://www.rosfm.ie/roscommon-spca-pro-paul-sullivan-interview/
Niamh Loftus talks with Roscommon SPCA PRO, Paul O' Sullivan about why pets are much more than presents at Christmas time and what can be done to help.
Roscommon SPCA is having their annual Christmas Street Collection in Roscommon Town on Friday, 8th of December and Saturday, 9th of December.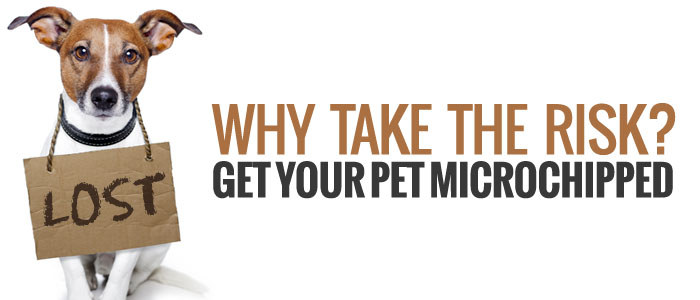 Microchipping will be a legal requirement for all dogs by 31st March
From 31st of March 2016, it will be a legal requirement for all dogs to be microchipped and it is already a legal requirement for puppies born after the 1st of June 2016. Failure to comply with the legislation could result in a fine of up to €5,000 so don't wait – get your dog microchipped before 31st March 2016.
Please note that the new "MICROCHIPPING OF DOGS REGULATIONS 2015″ comes into operation on the 1st June 2015. Click on the PDF link below.
MICRO-CHIPPING OF DOGS REGULATIONS 2015
*********************************************************************************************
DOG LICENSING IN IRELAND
Under the Control of Dogs Act 1986, which was amended in 1992, all dog owners are required to have a dog license.
What type of license do you need?
• Individual dog license – covers one dog for a period of 12 months
• General dog licence – for owners of kennels for a period of 12 months
• Lifetime of the dog licence – for the lifetime of the dog for which the licence is issued
Most people will need an individual licence. You have to be over 16 years of age to hold a dog licence.
Dogs which do not require a licence
• Guide dogs for the blind do not require licensing
• Dogs which are in the country for less than 30 days do not require licensing.
Some breeds have specific regulations
The breed of dog is not considered important, but some breeds have specific regulations about leashing, muzzling, etc., in public places.
**********************************************************************************************
Restricted Dog Breed Information
The Control of Dogs Regulations 1998 (S.I. No. 442 of 1998) impose additional rules in relation to the following breeds (and strains/cross-breeds) of a dog in Ireland, read full information here.
http://www.irishstatutebook.ie/eli/1998/si/442/made/en/print
*********************************************************************************************
ROSCOMMON DOG SHELTER/POUND
Under the provisions of the Control of Dogs Act, 1986, the Local Authority is responsible for the control of dogs in the County of Roscommon.
Roscommon SPCA has no responsibility directly or indirectly in the management or administration of the Dog Shelter/Pound in Co. Roscommon.
Roscommon Dog Shelter (Pound) Opening Times: 11-2. Mon-Sat – 090 6662992
Phone – 0906662992
Email – roscommondogshelter@eircom.net
Finding of Stray Dogs
13.—(1) Any person, other than a dog warden or a member of the Garda Síochána, who finds and takes possession of a stray dog shall, forthwith—
(a) Return the dog to its owner, or
(b) Deliver the dog to a dog warden, or
(c) detain the dog and give notice in writing containing a description of the dog, the address of the place where it was found, and the address of the place where it is detained to the member in charge at the nearest Garda Station to the place where the dog was found, or to a dog warden.
Stray dogs that are reported or picked up out of hours by Roscommon SPCA are handed over to the pound at the earliest opportunity. All stray dogs picked up by Roscommon are reported to the Dog warden immediately.
PET TRAVEL
Import into Ireland of dogs, cats and ferrets
The EU Pet Passport system is designed to protect citizens from the threat of rabies and certain other diseases. EU rules apply to the movement of pet dogs, cats and ferrets into EU Member States. Pets entering Ireland from the EU require:
Pet dogs, cats and ferrets entering Ireland from the EU require:
Passport/certificate showing identification
Subsequent rabies vaccination with first vaccination at least 21 days before entry
Specific tapeworm treatment of all pet dogs
(For full details click here)
Pet dogs, cats and ferrets travelling from another qualifying (lower risk) countries can also travel into Ireland on the same conditions as set out above.
Pet dogs, cats and ferrets travelling from non-qualifying (higher risk) countries can also travel into Ireland without quarantine provided the pet has a passport/certificate showing identification and subsequent rabies vaccination. At least 30 days after rabies vaccination the pet must be blood tested to confirm a neutralising antibody titration at least equal to 0.5 IU/ml. The pet may enter Ireland only when at least three months has expired since a successful blood-test.
INFORMATION FOR PET OWNERS
How to get an EU Pet Passport in Ireland
Every Irish pet that is brought out of Ireland to another EU Member State or re-enters Ireland must have an EU Pet Passport. In Ireland, this is issued by private Vets directly to pet owners.
If you wish to have your pet's photograph on its passport (this is optional), you should bring a photograph with you to your vet. The photograph should be no bigger than 6 cm wide and 4 cm long, should feature the pet only and show its colour and markings clearly.
On receipt of the Pet Passport from your vet check all entries are legible and correct, as any errors could lead to your pet being detained.
Further information can be found on the DEPARTMENT OF AGRICULTURE WEBSITE
***********************************************************************************************
Department of Agriculture
https://www.agriculture.gov.ie/contact/
PRA Building, Golf Links Road, Roscommon. This office deals with the following issues: Veterinary, Livestock, AES. | Tel: 090 6630100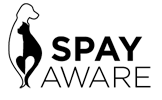 SpayAware aims to spread the message about the benefits of spaying and neutering pet dogs and cats to help stem the destruction of unwanted animals in Ireland.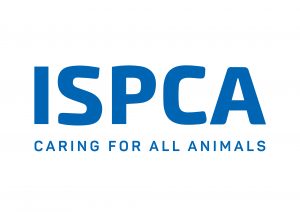 ISPCA LEGAL HANDBOOK ON ANIMAL WELFARE