The following are the confirmed dates of our Church Gate Collections and Annual Street collections. If you can spare an hour to help, please message our inbox.
FEBRUARY
26th & 27th Slatta, Dangan(Kilmore) Kilglass, Rooskey.
MARCH
5th & 6th Curraghroe, Drum.
APRIL
2nd & 3rd April – Strokestown Street Collection.
16th & 17th Ballinameen, Tulsk, Kilmurray
23rd & 24th Ballintubber, Ballinaheglish
23rd Car Boot Sale – Casey's Roscommon Town
MAY
30th Apr & 1st May Fairymount, Lisacul, Tibohine
30st Apr & 1st May Drumlion, Aughrim
20th & 21st – Ballaghaderreen Street Collection.  Virtual online only
21st May – Car Boot Sale @ Casey's in Roscommon Town.
21st & 22nd Elphin, Creeve, Ballinagare
28th & 29th Loughglynn
28th & 29th Dysart, Clonown
11th & 12th Drumboylan, Crossna, Arigna, Keadue
JULY
9th & 10th Castlerea, Trien, Cloonbonniffe
16th July 2022 Car Boot Sale @ Casey's in Roscommon Town
16th & 17th Clooneycolgan/Cloverhill
16th & 17th Derrinacartha, Brusna
JULY
30th & 31st July Kilteevan
AUGUST
6th & 7th Taughmaconnell/Moore Churches.
20th August 2022 Car Boot Sale @ Casey's in Roscommon Town.
20th & 21st Whitehall
SEPTEMBER
2nd & 3rd September Roscommon Town Street Collection
3rd & 4th Ballinlough, Granlahan, Gortaganny, Cloonfad
10th & 11th Corrigeenroe, Scramogue, Cloverhill, Knockcroghery, St. John's Lecarrow, Rahara, Kiltoom & Curraghboy Churches.
16 & 17th – Boyle Street Collection.
23rd September Table Quiz in Kilmore Inn Ballinlough @7:45pm
24th September 2022 Car Boot Sale @ Casey's in Roscommon Town.
OCTOBER
1st & 2nd Frenchpark
8th & 9th Killina, Breedogue, Athleauge, Fuerty, Kilbegnet Churches.
14th & 15th October – Castlerea Street Collection.
NOVEMBER
12th & 13th Ballaghaderreen, Croghan, Fourmilehouse, Derrane Churches.
27th November Athleauge Community Hall. Table Top sale
DECEMBER
3rd & 4th Boyle
10th & 11th December Ballyforan.
24th & 26th December Ballyleauge, Ballagh, Four Roads Churches.
****************************************************************************************
****************************************************************************************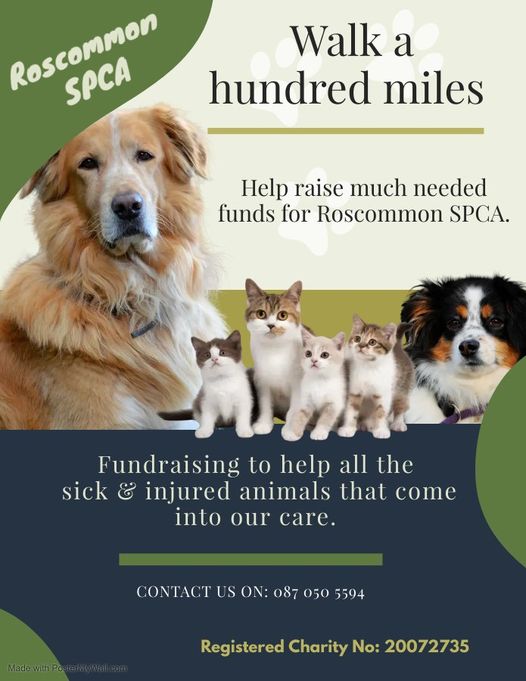 Help us to help them!
Our fundraising is ongoing, and we rely heavily on donations to help all the sick and unwanted animals in the County. This year is terrible for the number of sick kittens and injured cats coming into our care. It is also the time of year we start struggling for funds.
Can you help us to fundraise?
You can create your own Facebook fundraiser for Roscommon SPCA. Just click on the attached link or donate button. https://www.facebook.com/fund/roscommonspca/
Or you can donate directly via the Paypal link. you do not need a Paypal account to donate via this link, just a credit/debit card.
PayPal Link:
https://www.paypal.com/donate?hosted_button_id=AV82W3KJ4KM9G
IMPORTANT: We are a registered Charity, and all our fundraising is linked directly to our official pages. If anyone asks you to donate to Roscommon SPCA via a different link on another page, please check it out with us first. Or has Roscommon SPCA'a name on a fundraising page? Please let us know. Our fundraising is done only via our own media pages and is the responsibility of our Fundraising coordinator.
We have been told that people are setting up fundraising pages and saying any donations left over to go to Roscommon SPCA. THIS IS NOT TRUE
All fundraising pages are set up via our official link means the money raised goes directly into our bank account, not via third parties' own bank accounts. If in doubt, always check it with us on 087 050 5594.